Contact a Dietitian
Sun Devil Hospitality understands that many students are effected by food allergies and intolerances, and is committed to providing a variety of options for those students. If these diets do not meet your specific needs, please reach out to the Campus Dining Dietitian.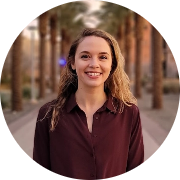 Brittany
Dietitian
rodriguezavila-brittany@aramark.com
Brittany has been a dietitian for several years now. Her services include discussing food allergies and sensitivities, dietary chronic disease prevention and management, and much more! Please set up an appointment with her by emailing the address above. Her services include no additional charge!